http://www.spiritofmedjugorje.org/
By June Klins
In 1999, my son and I were blessed to have traveled to Medjugorje and then to Rome. When we went to the Wednesday audience with Pope John Paul II, I took some of the religious items I had bought in Medjugorje so that they could be blessed by the Pope. Of course I did not know at the time that in less than fifteen years, he would be canonized a saint, but I did think the medals of Our Lady of Medjugorje, blessed by Pope John Paul II, were special.
Over the years, I was pretty selective of the recipients of these special medals, so in April of 2014, when Pope John Paul II was canonized, I still had some left. I decided that I would give each of the members of our mailing staff a medal to thank them for their long hours of dedication each month. They thought it was so special to have a medal blessed by a saint!
One of our helpers, Diane, has a niece, Theresa, who wanted to have a child, but had been told she would never be able to conceive a baby, due to scar tissue left by a serious disease and its treatment. The doctors gave Theresa and her husband, Brett, the options of in vitro fertilization or adoption. Just like many Catholics, Theresa and Brett were not aware of the teachings of the Catholic Church on in vitro (usccb.org/upload/lifegiving-love-age-technology-2009.pdf), so they chose that option. Twenty-one weeks later, in March of 2014, Theresa miscarried two girls and a boy. Theresa herself almost died at the time, due to an infection. Diane wrote, "They were devastated! There really are no words to console a couple who has gone through so much. Prayer is all that really got us through."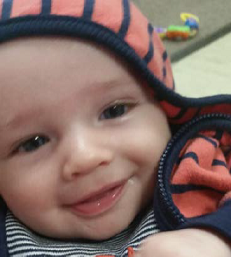 Carter
      Diane gave Theresa her medal blessed by St. John Paul II, on May 30, with the following instructions: "I am lending you this blessed medal of Our Lady of Medjugorje, and you are to return it to me at the Baptism of your baby next year."
Diane said, "These words were Spirit-driven – they were not the words I had in mind. All I wanted to do was to give her something to just make her feel a little better and give her a little hope."
Diane was so excited a few months later when she told me that Our Lady and St. John Paul II had interceded and Theresa had conceived naturally! Diane related, "The doctor told her this is a high-risk pregnancy and they would do everything possible to get her to at least 24 weeks gestation. Then the baby would have a chance of survival." She later added, "When 24 weeks came, they gave her steroid injections to help the baby's lungs develop. The baby was doing well and so was Theresa. 28 weeks came and the doctor said, 'Any day now.' Theresa and the baby were showing some signs of early stress. 32 weeks came and the pregnancy continued. Because of losing the triplets less than a year ago, the doctor was sure Theresa wouldn't be able to carry this baby longer than 36 weeks. But she did! At 39 weeks gestation, the doctor told her he would induce labor on his scheduled day for deliveries."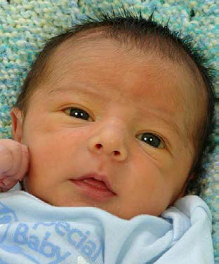 Joseph
      Carter was born on March 25, 2015. Diane was ecstatic that he was born on the feast of the Annunciation. She exclaimed, "This was confirmation from Mary that Carter is a gift from the Lord by Her intercession and that of St. John Paul II, who had a great devotion to the Blessed Mother and interceded many times on behalf of couples who were not able to conceive and have children on their own."
Another member of our mailing crew, Kathy, gave her special medal to her daughter, Ashley. In January of 2014, Ashley had had an ectopic pregnancy. Ashley wrote, "After having the ectopic, we had to postpone attempting pregnancy for a while, in order to heal and have testing done. We were then devastated to find that I had lost a tube, due to damage from the ectopic. The doctors scheduled surgery, but gave me one more month to try."
Around the same time that Kathy gave Ashley the medal, one of Ashley's friends, who had just returned from Medjugorje, gave her a prayer cloth that she brought back. Ashley slept with the prayer cloth on her lower belly/ pelvis area. Ashley said, "I used the medal and cloth, then found out I was pregnant the week before I was scheduled for surgery!" Joseph Daniel was born during the Easter Octave, on April 7, 2015. "We feel so blessed," Ashley beamed.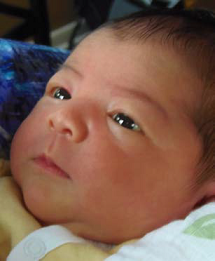 Maggie
      In the meantime, I had been in touch with my cousin, Mary Jo, whose daughter-in-law had had multiple miscarriages since their first child was born seven years ago. Jenn and her husband, Chris, longed to have a second child. Whenever Jenn would get pregnant, Mary Jo would call me for prayers. But, it didn't seem long before Mary Jo would be telling me that Jenn had miscarried again.
In August of 2014, my aunt, who is Mary Jo's mother, told me that Chris and Jenn had decided to adopt. I wrote to Mary Jo and told her that was wonderful that they had decided to adopt, but I also shared that I had just read in the book, Saint John Paul the Great – His Five Loves by Jason Evert, that "one of the most common themes of the letters [regarding the intercession of St. John Paul II] is thanksgiving from couples who were previously unable to have children." I offered her the last available medal I had, to give to Jenn.
About a month or so later, Mary Jo called me to say that Jenn was pregnant again. Mary Jo called me a couple of months later and told me that Jenn had made it through the risky time when she usually lost the babies, and wore the medal to her first sonogram. Mary Jo kept me updated as the pregnancy advanced.
Jenn was scheduled for a C-section on June 3, but God had other plans. Margaret (called Maggie) was born on May 31, 2015, the feast of the Most Holy Trinity. But, May 31 is a Marian feast when it does not fall on a Sunday – the feast of the Visitation – when Mary went to visit her cousin who had had trouble conceiving! What an awesome day to be born!
     "Today I call you to place more blessed objects in your homes and that everyone put some blessed objects on their person" (Our Lady, July 18, 1985).
We thank Our Lady of Medjugorje and St. John Paul II for their intercession for these three beautiful babies.