By Leonard J. DeLorenzo
Article originally publised in COLUMBIA a magazine of the Knights of Columbus.
The School of Joseph | KofC.org
3/1/2023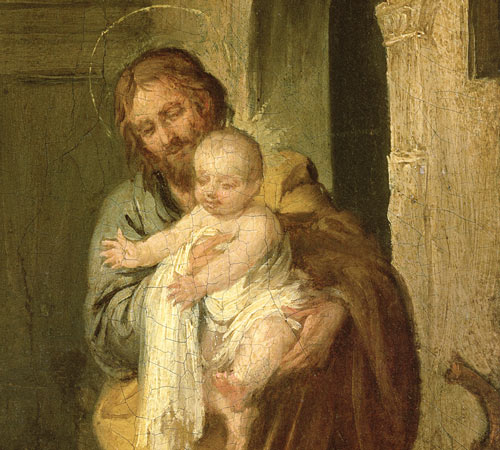 JESUS TELLS of a nobleman who entrusts his servants with gold, or talents, before leaving on a journey. When the man returns and sees what two of his servants have gained with the riches, he says to each, "Well done, my good and faithful servant. Since you were faithful in small matters, I will give you great responsibilities. Come, share your master's joy" (Mt 25:21, 23).
While considering this parable, we can think of St. Joseph. He was entrusted with much, and God rewarded his faithfulness by entrusting him with even more. Because St. Joseph was faithful as the spouse of the Blessed Virgin, the earthly father to the Son of God, and the head of the Holy Family, he has been entrusted by God with the protection of the whole Church.
The names, titles and honors recited in the Litany of St. Joseph help us discover the good and faithful servant whom God the Father entrusted with his own Son. As "husband of the Mother of God" and "faithful guardian of Christ," he stands as a "pillar of family life" and shines as an "example to parents." He is invoked as the "hope of the sick," "patron of the dying" and "comfort of the troubled." He offers guidance as "model of workers" and power as "terror of evil spirits." Born with our own weak and sinful nature, Joseph is the man who practices giving himself to God as "obedient and loyal," "prudent and brave."
The Litany of St. Joseph leads us down a path of contemplation. To contemplate Joseph requires that we contemplate the mysteries of God, because Joseph, who utters not a word in Scripture, is directed by and responsive to the Word who tells of our salvation. Joseph not only displays for us what obedience to God's Word looks like, but also reflects to us the wisdom of God's ways. In this way, Joseph is a gift to all Christians who call upon him.
The task, of course, is to actually call upon him. St. Joseph never cries out for attention; rather, he waits patiently for those who need him to seek his aid. This is who Joseph has been from the beginning: the man who waits — attentive and ready. He hears what is needed, heeds the complexities of all circumstances, and acts in accordance with the Lord's will. As St. Teresa of Á;vila confessed: "To other saints, our Lord seems to have given grace to succor men in some special necessity; but to this glorious saint, I know by experience, he has given the power to help us in all."
For what do we need help? As husbands we need help to honor and reverence the wives to whom we have vowed ourselves. Fathers need help to guard, teach and strengthen the children entrusted to us. Workers need help to labor with dignity, care and purpose. The Son of God himself experienced a father's love in Joseph, witnessed a husband's devotion in Joseph's love for Mary, and grew in skill and competence in Joseph's own workshop. The servant who helped raise the Son of God to manhood is the same one whom Jesus gives to us to help us become who we are called to be.
In order to grow as disciples and become ever more capable of God's call in our lives, we would do well to turn to the intercession of St. Joseph, especially through his litany. As a concrete commitment, consider setting aside time each day for a month to pray the Litany of St. Joseph and to reflect on one of his names, titles or honors. Keep a journal in which to write a short thought or insight at the end of your periods of prayer. By praying in this way — and by developing this habit of prayer and reflection — we stand to grow as Joseph himself grew in obedience to the Lord, becoming a man after God's own heart.
*****
LEONARD J. DELORENZO, Ph.D. , works in the McGrath Institute for Church Life and teaches theology at the University of Notre Dame in South Bend, Ind., where he is a member of the Knights of Columbus. He is the author of Model of Faith: Praying the Litany of Saint Joseph (OSV, 2021).